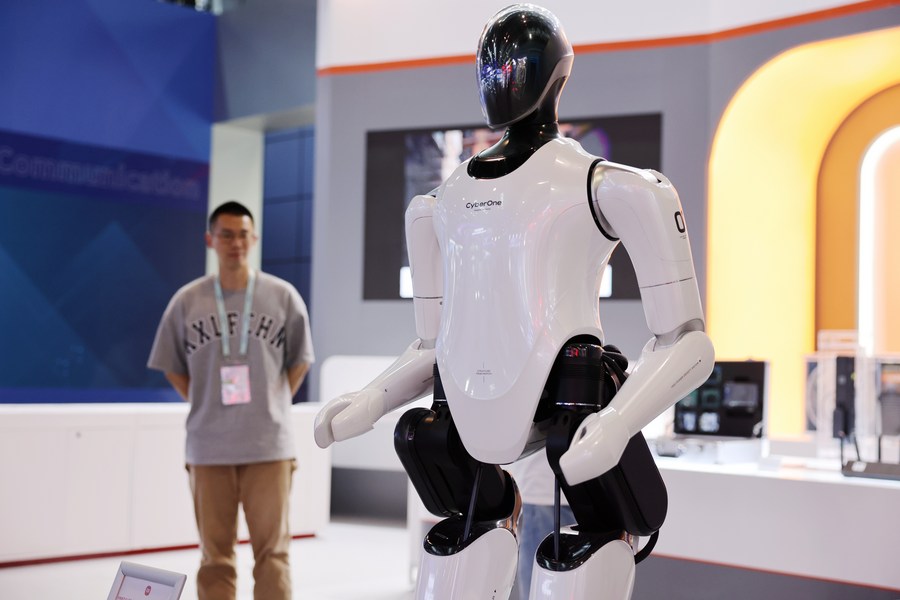 This photo taken on May 26, 2023 shows a full-size humanoid bionic robot displayed at the exhibition center of Zhongguancun National Independent Innovation Demonstration Zone in Beijing, capital of China. At the exhibition area of this year's Zhongguancun Forum (ZGC Forum), a myriad of intelligent technological products and applications are shaping a promising vision of future life for people from across the globe. (Xinhua/Zhang Chenlin)
BEIJING, May 27 (Xinhua) -- Embroidery robots, surgical robotic arms, intelligent coal mining, and online hospitals... A myriad of intelligent technological products and applications shine at the exhibition of the 2023 Zhongguancun Forum, being held in the Chinese capital's innovation hub Zhongguancun, known as "China's Silicon Valley."
Running from May 25 to 30, the 2023 Zhongguancun Forum has drawn about 650 enterprises and institutions from across the world to showcase their cutting-edge scientific and technological advances and achievements in the fields such as information technology, intelligent manufacturing, green industry, medicine and health, and digital economy.
PowerChina Huadong Engineering Corporation Limited (HDEC), one of the earliest enterprises carrying out wind power surveys and designs in China, displayed its leading sci-tech R&D capability and independent innovation potential in the offshore wind power sector at the exhibition.
"We have developed Asia's first offshore booster station and the world's first large-diameter rock-socketed single pile. An offshore wind power infrastructure independently developed by the company has also been applied to many projects in Vietnam," said Li Wei, chief engineer of the new energy engineering institute of HDEC.
"The Forum provides a platform to display the company's sci-tech achievements and innovative capabilities in the offshore wind power sector and share business and development opportunities with more entrepreneurship entities from the world," said Li.
Of the exhibitors, there are 165 foreign-funded enterprises and institutions from nearly 30 countries and regions, including 25 of the world's top 500 enterprises, demonstrating their prowess in sci-tech advancements.
The hydrogen fuel cell technologies introduced by Hyundai Motor Group from the Republic of Korea have attracted a steady stream of visitors. Hyundai has set up its first overseas hydrogen fuel cell system R&D, production and sales base in south China's Guangzhou, which will be completed and put into operation in June, with a total investment of 8.5 billion yuan (about 1.2 billion U.S. dollars).
The hydrogen fuel cell industry in Beijing and Guangzhou has a solid development foundation, and Hyundai has technologies and product reserves in this field. The cooperation between enterprises from the two countries has broad prospects, said Wu Yanbing, with Hyundai Motor Group (China).
"Many visitors and business representatives came to our booth to learn about hydrogen fuel cell vehicles. The Forum has played a great role in spreading our ideas, expanding the exposure of the company's technologies and products, and providing us with more business and technological cooperation opportunities," said Wu.
ABB, a Swiss tech giant in electrification and automation, brought its integrated solutions for greenhouse gas monitoring to the exhibition. It set up its first manufacturing joint venture in China over 30 years ago and has a full range of businesses, including manufacturing, sales, and services in China.
"The Zhongguancun Forum is a great platform to display our solution plans and launch dialogues with enterprise customers," said Lars Eckerlein, general manager of ABB (China) Limited. "It is already the third time for us to participate in the Forum, which brings us a lot of opportunities to seek sci-tech cooperation with global partners."
Located in northwestern Beijing, Zhongguancun is the country's first national independent innovation demonstration zone. Over time, it has become a flagbearer of China's innovation, bearing witness to the rapid development of Chinese technology, with the continuous emergence of significant sci-tech innovations, increasing investment in R&D, continuous improvement of innovation mechanisms, and strengthened international cooperation.
Last year, there were 4,244 companies in Zhongguancun with annual revenue exceeding 100 million yuan, which is 2.2 times that of 2012. Among them, 11 companies surpassed the 100-billion-yuan revenue mark.
"Since its inception in 2007, 13 editions of the Zhongguancun Forum have been held successfully, serving as a vital international platform for China's active involvement in global scientific and technological innovation, and its extensive participation in global science and technology governance," said Wu Zhaohui, vice minister of science and technology.
The Zhongguancun Forum has become a global, comprehensive, and open high-end sci-tech forum, shouldering the important mission of promoting global sci-tech progress, said Saifur Rahman, president of the Institute of Electrical and Electronics Engineers at the forum, adding that with China's increasing integration into the global innovation pattern, China's technological development will surely become a more important engine of global innovation.
编辑:天天